For most people, getting into a prestigious university is the most challenging part (apart from surviving it!) of their academic journey. But that's not true for all of us. Sometimes entering the country where your dream university is located can become even more challenging, especially if you are from a country where passport privilege is nonexistent. That's exactly what happened to me as a citizen of Bangladesh.
According to passportindex.org, my passport ranks 188th in the world, even below North Korea! That's precisely why, when I finally got my admission offer letter from my dream institution, Brown University, it made me even more anxious instead of celebrating, like seen in many university acceptance reaction videos on YouTube.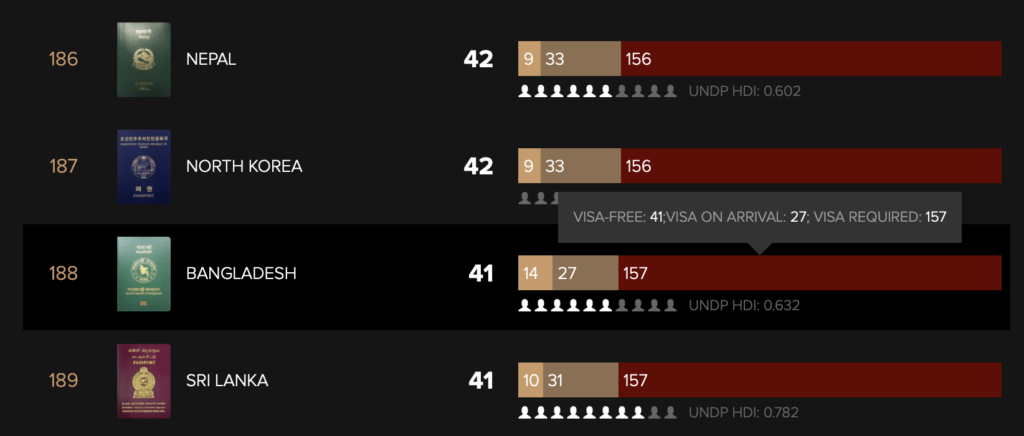 And my fear came true. I appeared for the visa interview and got rejected under section 214b, which means the visa officer was not satisfied I'd come back to my country after completing my degree. I was so heartbroken that I didn't even want to apply again. But fortunately, I did, and got my visa!
So I'll share my 2nd interview experience below and then describe what I changed there to present my case properly. And some points which are applicable for you if you are from an underdeveloped/developing 3rd world country like me.
Visa Interview Experience 2nd Time
Visa type: F1
Intended program: ScM Computer Science (Deferred from Fall 20)
School: Brown University
Total Expense mentioned in I20: 65830$ per academic year
Date: 9 Aug,2021 7:30 am
Status: CEAC Issued same day @9PM
Passport: Got collection mail on 11 Aug 5 PM Collected on 12 Aug 12 AM

I was called at counter 6, white American VO.
(They won't assign you the same VO who rejected you before)
Me: Good morning
VO: Good morning, please pass me your i20
(Then went through the fingerprint process)

VO: so, what are you going to do in the US?
Me: I am going to pursue my master's degree in Computer Science at Brown University.

VO: (Looking at my i20) Brown is a great school but quite an expensive one, so how are you going to pay for it?
Me: My father will sponsor my education. He is a doctor who has been practicing general medicine for 30 years. He has an annual income of about X USD and a liquid savings of Y USD along with other fixed assets like A, B, C. So, he can comfortably finance my educational expenses without any problem.

VO: So let me be clear, your father's annual income is X USD?
Me: Yes.

VO: And he has a savings of about Y USD?
Me: Yes.

Vo: Okay, nice. So have you ever been to the US?
Me: No, but I have been to other countries like South Korea, Singapore, Malaysia, India, and Nepal.

VO: And your father?
Me: He visited England and some other European countries. He also went to Singapore, Malaysia, and India.

VO: So you are saying he visited England?
Me: Yes, it was a family trip, but I couldn't join them due to my study.

VO: Oh, I see, can you pass me your old passport?
Me: Sure.
Going through every visa in all three old passports

VO: So what is this? Showing the first page of my first passport
Me: Oh, it is my nickname. But later, no other official documents have that part.

VO: Oh, okay, nickname, I see. So what is your plan after graduation?
Me: After completing my master's degree, I'll come back to Bangladesh and join my current company, Samsung R&D Institute, with a promoted position and better compensation.

VO: (Nodding positively) So how many varsities did you apply?
Me: Other than Brown, I applied to Columbia University, UCLA, UC Berkley, Johns Hopkins, and Georgia Tech. Columbia wait listed me, but after accepting Brown's offer, I've rejected Columbia's offer.

VO: So do you have any relatives in the US?
ME: No

VO: (After typing for some time) okay, I'm planning to approve your visa. Congratulations. Collect your passport after two weeks.
Me: Thank you so much, have a nice day!
Profile
Undergrad: North South University BS in CSE CGPA : 3.85/4
IELTS: 7.5 (R,L-8 W,S-6.5)
Toefl: 102 (R-25, L-29 W-28 S-20)
GRE (best of 2): Q- 166 V- 154 AWA – 3.5
Publications: 2 International papers, 1 International Journal (citation 11, focus primarily on NLP, emphasized on that in SOP)
LOR – Pretty strong and personalized (two Academic, one professional)
Work exp – At the time of application, two years in Samsung R&D as Software Engineer (and that time no patent was in progress, so I didn't mention them in CV/SOP)
Difference from 1st Reject
I can't remember every detail clearly as the interview was in June. The main problem – the overall vibe I got from the visa officer, was not that friendly. So I got tensed and answered all the questions in one line, expecting follow-up questions, especially about finance and stuff. But as she didn't ask those exact amounts about savings and other stuff, I guess she made some general assumptions to paint the whole picture. The same things happened with the country tie – I didn't clearly link my master's with my current job status. I expected follow-up questions but got rejected before that.

In the 2nd attempt, I didn't want to leave anything for VO's imagination. So added all the crucial details whenever I could in my answers. But without making it complicated.
Common Myths
Admission from Ivy League or other prestigious universities will guarantee you a visa. 
Unfortunately no. Because there are three things you need to prove to be eligible for an F1 visa – credibility, financing, and future plan. Getting admission from an excellent university just removes the question about your credibility as a student. You probably won't face any questions about why this university, your CGPA in undergrad, your GRE score, etc. The visa officers know without being a credible student, you couldn't secure admission from these universities. But the other two questions still remain. If you are from a developed country, your future plan is mostly covered because there are plenty of opportunities in your home country. You primarily need to prove that you have enough financial backup to cover your expense. But for a citizen of a developing country – you need to have a strong plan that provides convincing clarification about what you will do after finishing your graduation. That plan should align with your degree and must require you to come back to your country to prove your strong country tie. 
2. You can not get a visa with the same i20/DS160.
Fortunately, this is a myth. US visa relies heavily on face-to-face interview. If your DS160 doesn't contain any mistakes, you don't need to change it. You can though, if you think that change will make your case better. The same goes for i20. You can apply again for the same university with the same amount of tuition fee covered by the same source – if you are confident enough to boldly represent your case verbally next time. 
3. You can not get a visa with a large amount of tuition fee/deficit.
This is entirely a myth. If the income source of your sponsor is solid and legitimate, you don't have to worry about the amount of your tuition fee/deficit after the grant. But make sure you can explain the source/savings properly without creating any confusion/suspicion. 
4. More documents can make your case stronger.
Unfortunately no. US visa is not document-based, unlike most of the countries. 99% of the time, the visa officers won't ask for anything other than your passport and i20. Your verbal information and the data you've given on the DS160 are the determining factors.
5. Having a good travel history helps.
Actually, it is true for self-funded students from developing/underdeveloped countries. Suppose you have a history of visiting several first-world countries like – Singapore, Japan, South Korea, European countries, Canada, etc., that gives the visa officer two impressions. First, your financial stability is quite reasonable. That's why you received the visas after the background check and could visit those expensive countries. The second thing, you have no illegal immigration intention. 
6. You can not change your answers from your rejected interview. 
That's false. After getting a rejection, if you think by changing your answer for any particular question, you can represent your case better, you should. But never ever give any false information.
7. If you get rejected, you should not reapply because the outcome is predetermined; the interview is just a formality. 
Completely false. If you don't have any severe issue in your profile, and you just messed up the first interview because of your lack of confidence/preparation/other reasons; you should definitely reapply. Each interview is judged independently, though your new VO can see the rejection remarks of the previous application. And most of the time, the consulate will try to assign you to a new VO, so big chance you feel more confident with this new person and present your answers much more confidently. But be prepared to face follow-up questions from your previous interviews. 
Tips
Don't be tensed. One way to do that is not to take this interview like your life depends on it. I had a solid alternative plan in mind for the possible rejection. That personally made me pretty chill about the whole situation.
Though most of the interviews are scheduled early in the morning, don't forget to have a sound sleep, eat your breakfast, and take a shower. It sounds funny but it helped me to warm myself up.
Practice at least one time with your friend with all the questions mentioned on the Next Stop Website(https://nextopusa.com/handling-visa-interview-with-deficit/). Check your answers' clarity, believability, fluency, and pacing so that VO can hear and understand every word. Don't care about your accent.
Focus mostly on three things – your reason to choose your education path (why do you want to obtain this degree from this institution – won't be a problem for highly reputed institutions), your ability to finance your education (who, how, and why he is going to sponsor you – not applicable for full fund) and strong country tie (Can be your current job, family business, property, Spouse, etc.). Don't say any plan that doesn't explicitly require you to come back to Bangladesh. Most of the time, you'll get rejected if your future plan doesn't include a strong country tie.
Make your answers fluent and straightforward. Wordy GRE reach words in your answers can make anyone confused and can make you look pretentious.
Wear whatever you like that you are comfortable with. Don't wear too formal if that makes you uncomfortable.

My final tips would be – don't care that much. If you already have a funded/non funded admission in the USA, you'll easily get similar opportunities in other countries too, with a much lenient visa procedure. It Will be a slight hassle to apply again, but this type of attitude will make the US interview experience smoother.
(Visited 335 times, 1 visits today)